Ecole de musique Tchaikovsky à Bruxelles
Bienvenue à l' Ecole de musique Tchaikovsky à Bruxelles. Nous sommes la plus grande école de musique privée de Belgique depuis 2002.
Nous proposons des cours individuels et collectifs par des professeurs professionnels et expérimentés de piano, guitare, violon, chant, flûte, combinés avec le solfège pour enfants et adultes.

We are proud to announce our new MUSICAL PROJECT "Disney Dream".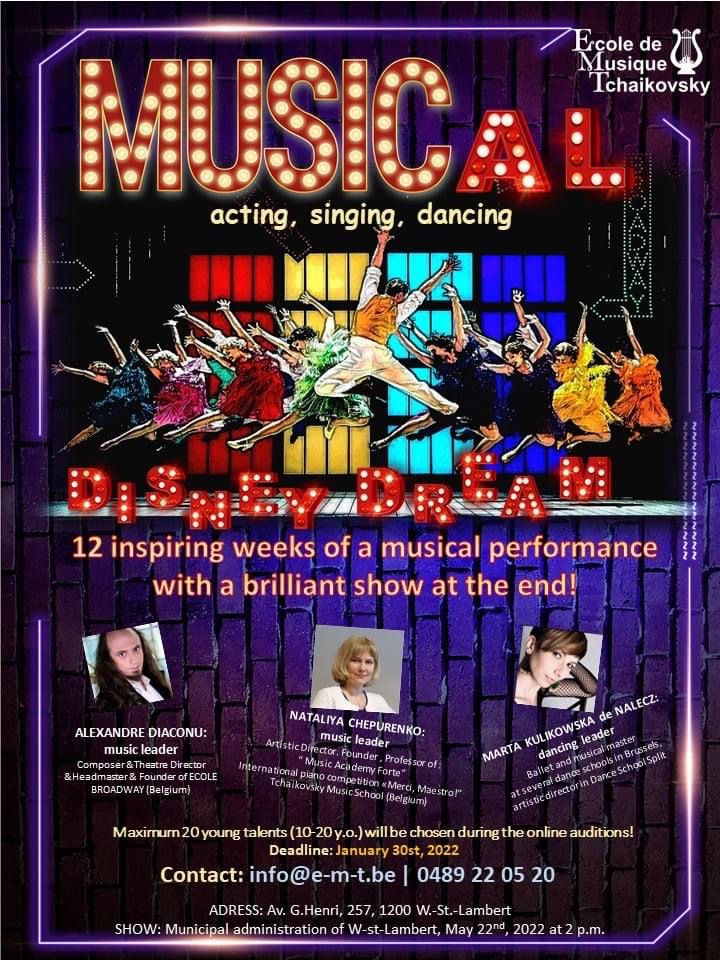 Ever dreamed to sing and play in a MUSICAL? Harry up for inscription!!!
Our locally-integrated music school, connecting multilingual talents, invites you to join us for 12 inspiring weeks of a musical with a brilliant show at the end.
We accept maximum 20 participants (10-20 y.o.) after an online audition.
During two hours on a Sundays, our professional leaders will work with you in different disciplines as acting, singing and dancing in English & French:
Composer &Theatre Director &Headmaster & Founder of ECOLE BROADWAY (Belgium)
Ballet and musical master at several dance schools in Brussels, artistic director in Dance School Split (Tervuren)
NATALIYA CHEPURENKO: music leader
Director and Professor of piano&chamber music at the Tchaikovsky Music School (Brussels), Artistic Director and Founder of " Music Academy Forte" and "Merci, Maestro!" International Piano competition.
The workshops will be culminated by a performance show at the Municipal administration of Woluwe St Lambert in May 2022. Show must go on!
---
Rehearsals (12x): Sundays, 11am – 1pm
February  6, 13, 20, 27
March 13, 20, 27
Avril 1 (fr), 24
Mai 8,15
General rehearsal: Mai 22, 10 am-1pm
Main performance "Disney Dream": May 22nd, 2022, at 2pm 
Address of the rehearsals: Tchaikovsky Music School
Address of the show: Municipal administration of Woluwe st Lambert
Cost:  220 euros (to be paid only if you get selected after online audition)
Deadline for inscription for audition (10 Euros):  January 30st, 2022.
List of the songs which will be performed in the musical:
1. Hakuna Matata (The Lion King)
2. Colours of the Wind (Pocahontas)
3. Let it Go (Frozen)
4. Under the Sea (The Little Mermais)
5. Once Upon a December (Anastasia)
6. The Bare Necessities (The Jungle Book)
7. Just Can't Wait to Be King (The Lion King)
8. A Whole New World (Aladdin)
9. How Far I'll Go (Moana)
10. Be Our Guest (Beauty and the Beast)
…
You are welcome to join our new project!!!
HERE
 is a link for inscription for the audition (costs: 10 euros). Please be ready to attach a link to a short video (YouTube or Google Drive) where you are performing your favoured song that shows your talent. You can choose any song for the audition (not only from the list above).

Actualités
Les inscriptions pour l'année académique 2021/2022 sont en cours.
Les inscriptions de nouveaux élèves se font à tout moment au cours de l'année scolaire. Les factures seront calculées à partir du jour d'inscription jusqu'à la fin de la période.

Stages de développement musical
Prochain stages:
28/02 – 4/03/2022
4-8/04/2022
4-8/07/2022
22-26/08/2022
Notre école vous offre…
Des cours individuels, semi-collectifs et collectifs.
Nous vous proposons des cours de violon, piano, guitare, flûte, et de chant mais aussi des cours collectifs de solfège, d'éveil musical et de théâtre musical.
Il est possible de s'inscrire tout au long de l'année scolaire!
Des cours pour tout âge, en plusieurs langues.
Nous accueillons des élèves dès l'âge de 2 ans et demi et il n'y a pas d'âge limite. les cours sont donnés en plusieurs langues : français, néerlandais, anglais, russe, polonais, espagnol, italien,  hébreu, etc. 
Vidéo de présentation
Rencontres Musicales pour les petites
23.01.2022 – flute
06.02.2022 – guitare
20.03.2022 – violon
08.05.2022 – piano