Tchaikovsky Music School in Brussels
Welcome to the Tchaikovsky Music School in Brussels. We are the largest private music school in Belgium since 2002.
We provide individual and group lessons by professional and experienced teachers of piano, guitar, violin, singing, flute, combined with music theory for children and adults.

CONCERT 25 JUNE 2022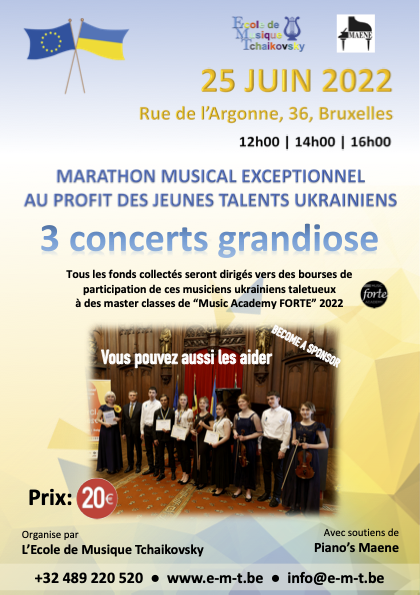 You can buy tickets HERE

News
Admission for the school year 2022/2023 is open!
New students can register any time during school year. Invoices will be calculated from the first day of registration until the end of a term.
Music Training Workshops
Next workshops:
28/02 – 4/03/2022
4-8/04/2022
4-8/07/2022
22-26/08/2022
Our School offers…
Individual, semi-collective and collective courses.
We offer violin, piano, guitar, flute, and singing lessons but also collective courses of initiation to music, music theater and music theory.
You can register whenever you want during the school year!
Courses for any age, in several languages.
We welcome everyone from 2,5 years old. Lessons are given in several languages: French, Dutch, English, Russian, Polish, Spanish, Italian, Hebrew, etc.
Presentation video
Music encounters for kids "We play with music!"
06.02.2022 – guitare
20.03.2022 – violon
08.05.2022 – piano