Music Workshops for kids 2.5 – 6 y.o.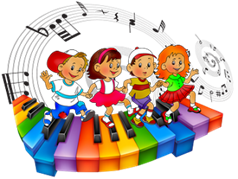 Let your kid express his/her artistic talents in our music workshops during the holidays!
Our teaching method is open, active and participative. Children learn about music through specific activities. Take a look at our program.

Activities
Music – listening and discovery
Rhythms
Singing- choir and songs
Thematic drawings
Discovery of musical instruments
History of music and instruments adapted for children
Creative games
Concert for parents at the end of the course
Planning of a typical day
This activity is intended for children aged between 2.5 and 6 yo
8:30 am – 9:00 am : Morning welcome
9:00 am – 10:30 am : Beginning of musical activities
10:30 am – 11:00 am : Snack*
11:00 am – 12:30 : Musical activities
12:30 – 1:30 pm : Lunch*, rest, afternoon nap if necessary
1:30 pm – 4:00 pm : Musical activities
4:00 pm – 4:30 pm : 4 o'clock snack*
4:30 pm – 5:30 pm : Rest. The children can play at our garden, watch DVDs, draw, play, etc.
5:00 pm – 5:30 pm : End of the day, the parents come and pick up their children
*The school provides following snacks: juice, water, biscuits, waffles. The full meals should be brought by the children (if needed). It is possible to reheat meals. We are also equipped with adequate material so that the children can take a nap if necessary.
End of the week Show

  
At the end of the program children present a small show. Parents are invited at 4:30 p.m.

Dates of the workshops 2021-2022
23-27/08/2021
1-5/11/2021
28/02 – 4/03/2022
4-8/04/2022
4-8/07/2022
22-26/08/2022

Prices